Roman Remains in Britain

---
Birdoswald Roman fort on Hadrian's Wall (Camboglanna)
or perhaps Castlesteads
This is one of the candidate sites for the battle of Camlann at which King Arthur and Mordred died in the final battle -- that's if you are of the school that King Arthur was a 'national' presence rather than a local leader in the southwest of Britain. [This might be the Castlesteads fort nearby -- I'm not sure what I was seeing at the time, and Camboglanna as a name is not clearly identified as either of these sites. Birdowsald, as I recall, was placed in the bend of a river on an impressive promontory, so this very well might be Castlesteads -- will just have to go back and check someday, eh?]
Note that the site was used later as a convenient farmyard precinct (actually, a rather impressive farm) and that the south gate -- below -- which now fronts a pasture, faces uphill. The Romans engineers did not necessarily pick the most defensive sites, unlike the Normans, but worked by plan: i.e., a such-and-such sized square every six miles, or whatever, such was their bureaucracy. (Of course, there would have been a ditch to protect the south wall, but that was long ago filled in for pasturage.) The site is beautiful and pastoral now.
---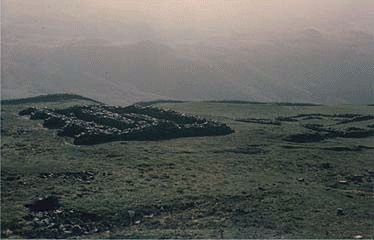 Hardknott Pass Roman Fort
Protecting the seaward entry of probably the steepest pass in England, from the west coast port and fort of Ravenglass to the central Lake District fortress (Galeva) at Ambleside, this was likely to be the most remote and inaccessible of all full-scale Roman outposts in Britain, and it would not surprise me if a document turned up some day to show that it was a station for failures, fuck-you troublemakers, and out-of-favor officers -- like being assigned to Greenland or the South Georgia whaling station. The view from the site is spectacular when the weather is clear -- which is hardly ever; the drive up the hairpin 1-in-4 gradient one-lane road to reach this site is not fun for people who do not like their driving to be a challenge, but there are actually folks who JOG up and down this pass (Hardknot, and the next one, Wrynose, which is nearly as bad). Site names of farms in the glens below are called things like Mucklegarth, indicating that the Vikings settled this area after the Romans were gone (or maybe even caused them to leave, although it looks more as though this impregnable site was just abandoned when Maximus et al. recalled the legions). Of all Roman fortresses, which unfortunately in some ways, are protected from 'interference', this is one I'd love to see restored in the Fort Ticonderoga sense.
---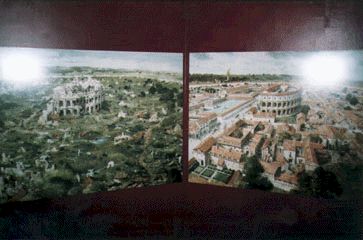 Canterbury (after and before)
Photo of a painting in the Canterbury Roman Museum. A very impressive museum of small size but with lots of local remains from the time, including a large mosaic floor in situ. This painting is very moving, and probably as accurate as could be done given what is now known of what the city was in Roman times, and what it looked like after the Saxon invasions and just before the establishment of Augustine's Christian mission there. Note the large semicircular amphitheatre; nothing remains of that, except for enough foundations found underneath WWII bombed-out buildings to establish its plan and size -- but it was likely, as in the painting, to have survived longer than any of the buildings, except for the town walls. (FYI: the 'after' picture is to the left of the 'before' ; this is because the museum is meant to be viewed clockwise, where everything to the left is later in time -- simple explanation, eh?)
Home Page