Dunnottar Castle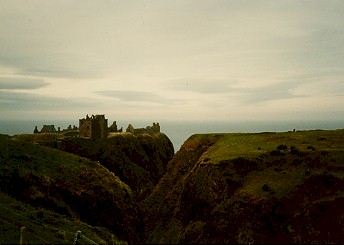 DUNNOTTAR -- I think this is my favorite Scottish castle; awesome place near Aberdeen, what else can I say? This thing sits up on its cupcake-shaped island mount right out of the North Sea and has an extremely elaborate gatehouse involving caves and tunnels and formidable gun loops, but the plateau has nice domestic buildings (however, the weather must have been horrible most days of the year). It was used as a prison camp during the 17th C religious wars and some awful things happened here, and many Covenanters died attempting to escape down the rock face.

As a fort in the age of artillery, it was not as impregnable as it looks -- the inland approach is higher than the castle rock. Also, as a noted Scottish castle authority (Cruden) pointed out, the fancy gunloops were built more to impress than to be effective, as they are aslant to the gate passage. The crag itself is an unusual gritstone made up of egg-sized pebbles imbedded in what looks like mud or clay, but it is actually very durable.

[Click here for a wide-angle view]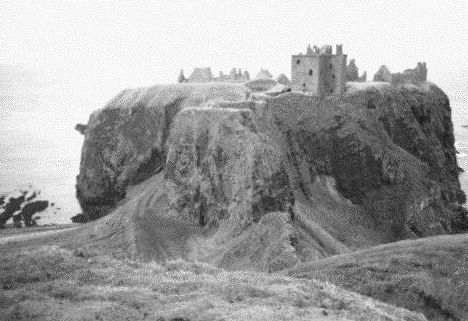 [This was a very badly overexposed color picture, so I gray-scaled it for a better effect]
Click here for an interesting Java view of this picture (what will happen if the ice caps melt).