Dunstanburgh Castle (Northumberland)
Nicely sited castle on the North Sea coast; very remote location; fairly scant remains, like somebody with very ravaged teeth; as a footnote, this castle is built on an outlying fragment of the Great Whin Sill basaltic extrusion that cuts across Britain at this point and on which the most famous part of Hadrian's Wall is built. The tower and the great gatehouse (not shown) are the only substantial remains; it's odd in a way that such a strategically located fortress was not taken over by the government, like Dover, but there are no major ports nearby. Compare this with Scarborough, not that far away, which the Germans bombed with Zeppelins in World War I.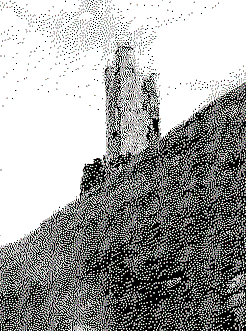 This castle was very cruelly destroyed except for this tower, which was probably left intact as a shipping landmark on this very bad coastal area on the North Sea. ["Arr, there's Leybum Tower on Dunstabur Head, me hearties, we'll not be feedin the fish ternight."]

This castle was very remote from any town, and I ran out of film -- hence no picture of the wonderful keep/gatehouse.