Carreg Cennan Castle in Winter
[This is an extension of the Grobius Shortling Web Page "Castles, Stone Circles, and Ancient Monuments." All the castles listed here have been personally visited, and any factual errors or wrong-headed opinions are my own fault. --Grobius Shortling, Feb 1997]
[Many of the images have been reduced to thumbnails to reduce load time, or else they are referred to with a
tag; click them to enlarge.]
New (Feb 2000): Many of the photographs on this site have been converted into two-color low-resolution GIF's; they can be used as clip art. Click Here.
---
| | |
| --- | --- |
| | Wales was always a very turbulent land, and is full of ancient Celtic hill forts, but the invaders introduced the idea of castles. The castles of Wales fall into three categories: (1) The Norman Conquest fortresses and manorial estates (Chepstow, Pembroke, Manorbier, Tretower), (2) the Edwardian power bases (Caernarvon, Conwy, Harlech), and (3) the native Welsh refuges (Dolwyddelan, Ewloe, Castell-y-Bere). It's not really that simple, because the sizes and complexities vary so much in these categories, but that will do for this web page. Wales has one of the best concentrations of castles in Europe. |
ABERYSTWITH- Very fragmented remains of a large castle in an attractive seaside resort/university town; nice against a setting sun. Edward I built this as one of his oppressive conquest castles; it protected the central part of the West coast against incursions from the Irish Sea (French or Irish).
BEAUMARIS- Edward's moated beauty (every one of his famous castles has something different going for it, in spite of a common thread of advanced fortification technology); this is in a flat area on the southeast coast of the island of Anglesey (near the place where the Romans slaughtered the last great conclave of Druids, vividly described by Tacitus).
CAERNARFON- Largest and best of the Edwardian white elephants (which in effect is what they were, impressive as they may be --each cost the medieval equivalent of a Trident submarine or an aircraft carrier, with pretty much the same effect on Edward's budget deficit, which is one of the reasons he wanted to conquer Wales and Scotland in the first place); very impressive facade, designed to intimidate and overawe the locals; the compact and nice little walled town was designed to be the administrative capital of north Wales; spectacular sunsets occur over the extensive west-facing bay. Spent Sunday night in town here after one of those great sunsets; getting dinner was another story -- see footnote.
CAERPHILLY- Gigantic concentric castle in the middle of its own man-made lake (a mere moat wouldn't do); the fortified dam is a marvel in itself; this area is mainly known for coal and cheese, so I'm not really sure why such a large fortress was built here; Cromwell (of course) knocked a lot of it down, and drained the lake; one tower still tilts over at more of an angle than the famous tower in Pisa, Italy -- but that tilts because the foundations were inadequate, and this one tilts because they are very adequate indeed and resisted Oliver's attempts to undermine them.
CARDIFF- Big square Norman castle in the center of town, in the corner of an old Roman fortress; much reconstructed by Burges, who was a famous medieval-romantic-revivalist architect in his time, in the late era of Queen Victoria, in an overblown neo-Gothic style (but I rather like it).
CARREG CENNAN- Superb castle on a high crag in the middle of an extremely rural part of Wales; at one point it was the hang-out of a gang of bandits who terrorized the region; has a nifty cave under it that can be reached via a 'secret' passage.
CASTELL COCH- A Disney-like Victorian jewel near Cardiff; was built on the site of a small Norman castle; the architect was Burges, who also re-did Cardiff (but on a much larger scale); Castell Coch is more like a hunting lodge or Folly, since it is not exactly roomy or conveniently laid out with kitchens and stuff like that!
CASTELL Y BERE- One of the best of the 'native' castles, which tended to be hidden in hard-to-get-to backwaters (for good reason); this one sits under Cader Idris, one of Wales's famous mountains [a mountain in Wales, or anywhere in Britain, is any eminence over 2000 feet high, paltry stuff by American standards, or any other, but dammit these ARE mountains and each one has a true 'personality'--every single little hill or tor has a name in these parts, and deservedly so].
CHEPSTOW- Very early large Norman castle; this was one of the Norman's first toeholds in Wales; now sits in the shadow of the Severn bridge, which in a way is more invasive than ever the Normans were.
CONWY*- Wonderful Edwardian castle, somewhat spoiled by the adjacent 'castellated' road and railway bridges; the town walls are great, too, and the estuary setting under Mt. Snowdon is beautiful. [* Why didn't I spell it Conway, as most people used-to-be-used-to? See footnote.]
CRICCIETH- A minor Edwardian adaptation of an older castle, overtopping a small fishing village and guarding access to the Lleyn Peninsula (that long bit at the top of Wales that sticks out into the Irish Sea); Portmeirion (the 'Village' of The Prisoner fame--remember that show?) is very close by.
DENBIGH- Dominates this small walled town that has more pubs per capita than any other place I've been (had a memorable pub crawl here on a Saturday night, and the same people kept showing up at different places-- got to be a 'fancy seeing you again, thought we got rid of you at the last place' type of affair, and ended up at this fine coaching inn we were staying in where, after hours--as 'residents' you can drink as long as the staff hangs out--I got into a long discussion with a pair of lesbian feminists); the castle is badly ruined, but looks like it would have been quite impressive, with its huge three-towered gatehouse. Wonderful place: but you can't re-create such moments, because we went back a few years later and it was inutterably depressing--this is a pocket of poverty, the people are great, but there is absolutely nothing going for them except the endless dole.
DOLBADARN- This was a 'native' castle, too; it sits on a lake below the Llanberis pass under Mt. Snowdon, and is basically just a fairly large round tower keep with a few (now ruined) outbuildings.
DOLWYDDELAN- Like other 'native' castles, this is nice and small and remote; beautiful setting in Snowdonia; smallish square keep and not much else (except when we went there, the most devastating gale in recent history was blowing and we had to form a human chain of hand links to rescue some children who were literally being blown off the exposed staircase to the keep).
FLINT- An early Edwardian castle; haven't been to this one.
GROSMONT- A member of the 'three-castles' set (with White and Skenfrith), which marked one corner of a Norman mini-kingdom in the middle of a Welsh area--this is one of the 'colonized' regions, like Pembroke, where the English pretty much reduced the Welsh population to serf status and tried to eradicate their language and culture (however, the industrial revolution is what really did it, without the benefit of castles and Norman barons)
HARLECH- One of Edward's most spectacular castles; why it's sited where it is is something of a mystery, since there's hardly anything nearby to protect, just miles of sandy beach below the ridge (however, it must have meant something strategically once, else why the famous 'Men of Harlech' siege?). It's probable this was once on the ocean, where it would have protected the upper West coastline on the Irish Sea; the postern gate that winds down the hillside ends up at what looks very much like a watergate (similar to the ones at Beaumaris and Rhuddlan). Hard to believe the coast should have moved so far out in just a few hundred years, but then, look at what happens on Long Island and other sandy areas along the eastern seaboard of the US; look at Rye or Pevensey or the no-longer Isle of Thanet in England--used to be seaports.
KIDWELLY- Pembrokeshire was colonized by the English, and this castle with its compact attached walled town brings to mind the medieval equivalent of Fort Laramie or some such place in Injun territory (the cavalry fort and town and trading post); the English farm-owners did not live on the farms but retreated into their safe little town, huddled under the big castle, every night--and not because of wolves or vampires; the castle is attractive looking, but is noted especially for its extra-large chapel tower, more elaborate than the parish church; hard to explain, although the Norman owners were likely to be very pious folk in spite of their voracity.
LLANSTEPHAN- Impressive Norman promontory fort in the south of Pembrokeshire; highly visible from the British Rail Carmarthen line; an odd thing (or maybe not) is that the major defenses are at the bottom of the slope and not perched up on the cliffs; the gatehouse was the largest and most elaborate building, but they walled up the entrance and converted it into a keep, building a little gateway in the curtain wall next to it -- a fairly common occurrence as military strategies changed (same thing happened at Richmond and Dunstansburgh in England).
MANORBIER- Residential castle on the south coast of Pembroke; the medieval monk/historian Geraldis Cambrensis was born here; nicely located in a remote cove with a good beach and great rock formations.
MONMOUTH- Not much remains of this; there is an interesting fortified bridge in the town, which is a nice place, with good pubs, book stores, and antique dealers; Prince Hal and Rolls of Rolls-Royce are native sons (statues).
PEMBROKE- Very large Norman castle with a round keep tower; there is a big cave under the castle that has been ingeniously incorporated into the defenses; the Victorian Earl did a lot of reconstruction on the exterior portions, to make it look good, and built cricket pitches, bowling greens, etc. in the outer ward--a nice amenity for the people of this town--but that makes for a touch of staidness, so you almost don't think of this as a 'castle' but just a public park with a high wall around it.
RAGLAN- Very elaborate and splashy display of late medieval/ Elizabethan private wealth (a la Kenilworth); badly done by, by Cromwell; the history of the siege is interesting, with the old Lord Raglan holding out to the very end (stubborn old bastard, like his descendent of Light Brigade fame).
RHUDDLAN- One of Edward's big ones; nice estuary setting (like Conway and Caernarvon, this makes sense because it controls access from the sea to the interior regions, which were still the holdouts of the 'native' Welsh -- no help available to them from French or Irish allies because access was blocked by the castle -- but that still leaves Harlech unexplained).
SKENFRITH- See Grosmont and White Castle; round keep in the middle of a simple square ward; my comment about colonization in medieval times still stands; this is still a benign area of Wales, nothing comparable to the horrors of the coal mines later in history, although nowadays there are problems with English yuppies who want to have country retreats at the expense of the locals -- not so much here as in the 'wilder' parts of the country; HOWEVER, it was not always so benign, hence the need for the castles in the first place -- but it was never necessary to build the Edwardian giants there.
WHITE CASTLE- See Skenfrith and Grosmont; this is the largest of the three, and the only one not inside a town (short entry, I'm ticked off, because we couldn't get in -- it was a Sunday, and nothing is open in Wales on a Sunday -- see footnote).
Visited, but not described: Ruthin, Cardigan, Llawhaden, Carmarthen, Newcastle Emlyn, Hay-on-Wye, Laugharne (left a pack of Woodbine cigarettes on Dylan Thomas's grave), Dryslwyn, Tenby.
Welsh Castles Yet to Be Visited: Penrhyn, Carew, Tenby, Chirk, Tretower, Cilgerran (only saw the outside of it), White Castle (only saw the outside of it), Cardiff (again, have not seen the inside of it), Flint, Newport, Dinas Bran, Dinas Emrys, Ogmore, Ewloe, Coity, Old Beaupre, Powis, Caldicot, Weobley, Oystermouth, Abergavenny, Crickhowell, Deganwy, Dolforwyn, Hawarden, Oxwich, Usk, Swansea....
[These are on my want-to-see list. If you have other recommendations or comments, please let me know. Write to: Grobius]
---
OTHER LINKS

WELSH CASTLES Fully indexed compendium -- excellent!
PALMER WELSH CASTLE TOURS Small, but attractive, tour guide
MORE WELSH CASTLES Additional links to individual castles
NOTES
There are a LOT of Welsh castles I've only seen from the outside (Cilgerran and White Castle, for example, and I couldn't photograph Conway because I was out of film and couldn't buy any), and that's because I was there on a Sunday, or during one of their peculiar 'lunch' breaks, or whatever. Don't forget, though, that this is another country, and not England, in spite of centuries of oppression against the Celtic races and attempts to Anglicize the people. Gripe against the Welsh Sabbath but show respect! Tell whoever gives you the cold shoulder your last name is James or Price or something else Welsh and you will get a different reception -- actually, you can be a Stanislaus, but don't ever say your name is Edward. The only places open in Wales on a Sunday are Indian restaurants. (Well, Cardiff might be an exception.) [Digression: have you ever noticed that an Indian accent is very similar to a Welsh accent? Just a cultural coincidence, because the Welsh would never have developed something like Vindaloo curry.]

The Welsh are trying to maintain their separate identity in these Global times (and in the past), just as similar places like Chechnia are doing. Good. People should be able to maintain their ethnic or cultural differences in the face of global Macdonaldism. However, by doing just dumb stuff like having road signs in Welsh is not going to solve that problem -- so Conway becomes Conwy and Carnarvon becomes Caernarfon, so what? These are attempts by Victorian philologists to try to spell something the way it is pronounced (remember Mao Tse Tung, who is now Zedong, or Peking now Beijing?). Yes, Welsh is definitely a different language from English, but if you are going to share the same alphabet it is a waste of effort to try to transcribe it by using double WW-LL-YY-DD combinations, that just turns people off and makes them think the language is unpronouncible like Polish, but even that isn't, it's just that the Roman alphabet is being distorted in a way it wasn't intended to be. There is no reason to spell Cymru (pronounced Koom-ree, not Sim-roo as you would expect from the spelling) that way. You could take me to task for advocating phonetic alphabets, but really we don't need all the nonsense, like what does the damn 'o' on top of a Scandinavian vowel mean, or the little squiggle (cedilla) under a French 'c'? And forget it when you come to Balkan/Turkish type names! If the Welsh want to use Welsh, which they should, it would be better if they updated their 'orthography' or whatever it is called, or switch to another alphabet such as Ogham. If you know the Russian alphabet, there's no problem pronouncing those names. The Poles, unfortunately went to the Latin alphabet, which is why they have all the BRCZ-type combinations. Welsh is a difficult language, but probably easier to learn than Irish, because under English oppression it lost most of the complicated gender/pluperfect-subjunctive/dative-nominative nonsense it used to have. David Williams (sorry, Dafyd ab Gwilym) was the best Welsh poet of the Middle Ages, and his poems are still great even in English translation. There's no need to render them in Chaucerian spelling in their Welsh versions (just as there is no reason to render Chaucer in the old spelling either <**>).
Link to a general commentary on Celtic Castles by clicking Here.
---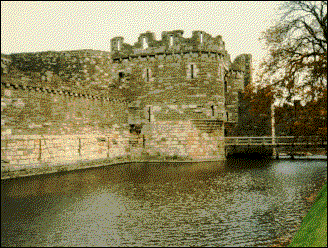 Beaumaris / Dolwyddelan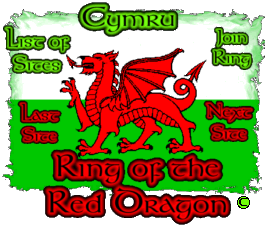 FastCounter by bcentral
---
** Might as well get this off my chest while on the subject, even though it has nothing to do with this web page. When you have to read the old classics in advanced college courses, the texts you see have all the old spelling and punctuation, with maybe only a footnote or so to explain an extinct word nobody knows any more. But why do the professors think that is necessary? It makes most of that literature inaccessible to us now, and these works are actually readable and have good things to say. All most of them need is just a 'spell-check' and quick editing job to get rid of extra commas, or put them in when needed, not a rewrite -- the expression and prose style do not really depend on the quaint spelling, as much as college profs would disagree. Much better reading a modern translation of somebody like Dante or Homer, because that's updated into modern English, rather than trying to wade through Bacon or Browne in the original.